More >
COMMUNICATIONS DIVISION (DISPATCH)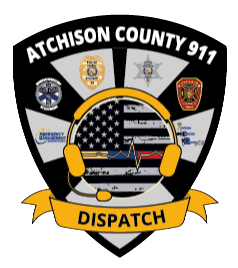 The Atchison County Sheriff's Office Communications Center (Dispatch) receives all 9-1-1 calls and non-emergency calls for service in Atchison County.
Our communications staff are devoted to assessing, coordinating, and sending information to the public safety professionals that are to responding to each call for service. We provide dispatching services for all Public Safety Agencies in Atchison County.

The Communications Division is under the direction of the Communications Director.
PUBLIC SAFETY AGENCIES SERVED


BURN PERMIT INFO & APPLICATON



HOUSE CHECK INFO & REQUESTS
CONTACT INFORMATION

EMERGENCY - 911
NON-EMERGENCY - 913-367-4323
Communications Director Information
Kim Pruett
Email - kim.pruett@atchisonlec.org

Address
Atchison County Communications Center
518 Parallel Street
Atchison, KS 66002

EMPLOYMENT INFORMATION
2 Dispatchers Per Shift
12 Hour Rotating Shifts (6A - 6P & 6P - 6A)
Must be willing to work nights, weekends, holidays, etc...
BASE PAY (No Experience) = $18.00/HR